NSL Kent private ambulance service could face closure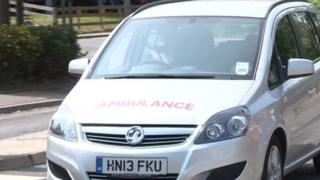 A private ambulance service could face closure after inspectors discovered a series of failings.
The Care Quality Commission (CQC) said NSL Kent did not meet mandatory standards in four out of five areas.
It found patients had experienced long waits and some staff had not undergone criminal record checks.
NSL Care Services said it had worked on the issues "with the urgency they warrant".
The company provides a non-emergency ambulance service for patients, taking over from South East Coast Ambulance Service in July.
But, during an unannounced visit in November, the CQC found patients had experienced long waits and some did not receive any transport at all.
Some staff had not been vetted during recruitment checks, or received criminal record checks.
The CQC warned the business that it must make immediate improvements to the service.
'Had enough'
In October, the governor of East Kent Hospitals NHS Trust called for the service to be retendered because patients were being left stranded.
Staff from the organisation have now voted for strike action.
Frank Macklin, from the GMB union, said: "I can confirm now that we have had 50% returning those ballot papers and, of those, 95% have indicated that they want to take strike action.
"They've had to put up with this on a daily basis - they've had enough."
An NSL spokesman said the statutory vetting process had now been completed for all employees in Kent, except those on long-term sick leave.
He added the patient query and complaints service had been centralised, which has shortened response times.
Wayne Spedding, chief ambulance officer for NSL Care Services, said: "We are extremely sorry that we fell short on meeting these essential standards set by the CQC.
"We recognise and acknowledge that this is a serious compliance failure on our part and that our learning from this failure is vital.
"We have been open in fully acknowledging the difficulties encountered, which has led to some patients being collected late, or not at all, and are pleased to say that this has improved.
"We would like to assure our patients and colleagues that we are continuing to address these issues and we are confident of meeting all the standards in the shortest possible time."
Adrian Hughes, regional director for the CQC, said: "We have told NSL Kent that it needs to make immediate improvements and we will return unannounced to the service in due course to check whether the changes have been made.
"If we find there are still problems, we will take further action."