A&E revamp agreed at criticised Medway hospital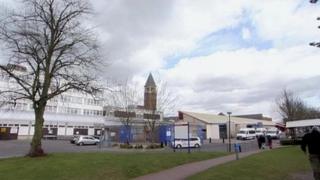 A £5m redevelopment of Medway Maritime Hospital accident and emergency department has been agreed.
It is after the Medway NHS Foundation Trust, which runs it, was criticised and put in special measures following the Keogh review in June 2013.
The work will update every part of the department to cater for 90,000 patients a year with key areas completed in time for the winter of 2014-2015.
The trust said the work would be planned to cause minimal disruption.
The Keogh review found the NHS trust had major failings and then health regulator Monitor found problems were wider than first thought.
It said the trust had failed to address properly poor A&E performance and had to take urgent action or make leadership changes.
'Full to capacity'
An expert team was set up to look at how the hospital worked and the care it provided to address that and the other five recommendations that came from the review.
Chief executive of the trust Mark Devlin said the redevelopment, which will start in the next few weeks, was good news.
He said: "We have known for some time that our emergency department facilities are just not up to the job, despite the excellent work of staff.
"It was designed in the days when up to 50,000 patients a year came through the doors for accident and emergency treatment.
"Now it is around 90,000 patients a year and rising.
Death rates
"The report by Bruce Keogh and his team in June last year made it clear that the emergency department is often full to capacity and has an unsuitable layout and environment."
Emergency department clinicians and nurses have been closely involved in the planning.
The work will include a new acute assessment unit, which will be in place by the end of 2014.
Fourteen trusts across England were investigated for high death rates after the public inquiry into the Stafford Hospital scandal.
The investigation, led by NHS England's medical director Prof Sir Bruce Keogh, led to 11 of those trusts being placed in special measures.
Medway was criticised for poor communication with patients, poor management of deteriorating patients, inappropriate referrals, delayed discharges and long waits in A&E.