Kent residents warned to remain on alert for more floods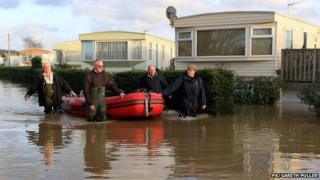 Some parts of Kent remain on alert for flooding after three flood warnings and 18 flood alerts were issued by the Environment Agency for the weekend.
The rivers Medway and Stour are particularly at risk of rising levels, meaning there could be floods around Maidstone, Canterbury and Ashford.
Further flooding in Yalding, where the Little Venice Country Park was flooded again overnight, is also likely.
Environment Agency spokesman Mark Douch said low-lying areas were most at risk.
Caravans evacuated
He warned that people in those areas should take heed of the warnings, and watch to see if flood alerts switched to warnings.
"If they do, people need to react quickly.
"There will be a number of hours notice from a flood warning to the impacts of flooding," he said.
The Little Venice Country Park and Marina at Yalding was evacuated on Thursday afternoon, with residents having to rescue their possessions from caravans when water surrounded the site after the River Beult overflowed.
'Remain vigilant'
The Environment Agency said a significant band of rain was expected to be widespread over the Medway and Beult catchments on Saturday, which could give totals in excess of 20mm, causing river levels to rise further and resulting in further flooding to property in the village.
Maidstone Borough Council said its emergency centre and call centre remained operational and staff were working with other agencies and the parish council to provide help and support in Yalding.
Council leader Chris Garland said while more flooding was predicted for Maidstone, the extent was not expected to be as much as over Christmas when the town centre was badly affected.
"However, we need to be vigilant and we need to be able to respond to that as soon as it occurs, and the council is geared up to do so," he said.
Flooding is also possible along the Kent coastline, with the Environment Agency predicting high tides during the early hours of Saturday.