Statues stolen from Godinton House and Gardens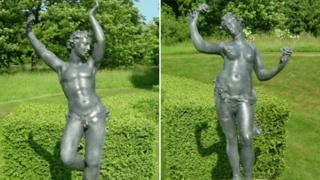 Two statues worth £30,000 have been stolen from a Jacobean house and gardens in Kent.
The lead figures, dating from the 18th Century, were taken from the gardens at Godinton House in Ashford on Monday night.
The estate manger described the statues of a dancing man and a female muse as "irreplaceable".
A spokeswoman from the estate said the thieves had planned the theft and used a trolley to move their illicit haul.
The theft was discovered by one of the estate's tenants.
'Looking coyly'
The sculptures are thought to have been bought by the Ashley Dodd family when the gardens were redesigned in 1896.
Nick Sandford, the estate's manager, said the figures had been at Godinton for at least 100 years.
"They form the focal point at the end of the tennis lawn with the male dancing figure clearly showing off to the young lady, who is looking coyly at his almost naked form," he said.
"They are irreplaceable and our great hope is they might be recovered. It would be a tragedy if they were simply destroyed for scrap value."
He said an attempt was made to steal the statues about 30 years ago when they were pulled off their plinths but abandoned.
Last month, a pair of ornamental stone lions worth an estimated £100,000 each was stolen outside a Grade II-listed manor house in Royal British Legion Village near Aylesford.
The lions were later recovered and a 57-year-old woman from East Malling was arrested on suspicion of theft.
She has been bailed until 18 December.