Tesco iPad fraud victim demands public apology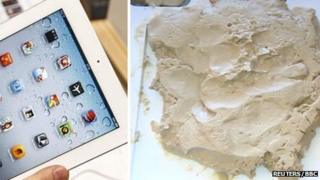 A man who fell victim to an iPad scam in Tesco is demanding a public apology from the company after being suspected of committing the fraud himself.
Colin Marsh bought the £480 gadget in Tesco in Whitstable, Kent, but when he opened the box he discovered it had been replaced with lumps of clay.
When he returned it to demand a refund, he was arrested and taken to a police station for questioning.
Tesco has apologised, but Mr Marsh says the experience has made him bitter.
Mr Marsh, from Whitstable, bought the device as a present for his family.
It was only when he opened the package that he discovered he was the latest victim of an international fraud in which criminals buy iPads, replace them with lumps of clay of similar weight, reseal the boxes and return them to stores for refunds.
'Sincere' apology
Only in his case, Tesco called in the police, suspecting Mr Marsh of trying the ruse himself.
He told the BBC: "I knew that all I had was a lump of clay, so I had then to convince police that I wouldn't do anything like that."
Tesco said in a statement: "We were very disappointed to learn that the product we sold Mr Marsh had been tampered with.
"We would, of course, never have knowingly sold it to Mr Marsh and apologise sincerely for the problems this has caused him."
However, Mr Marsh is not satisfied.
He said: "I need a public apology from a senior member of Tesco to explain to me why every time I go to Tesco I feel bitter and angry and end up having to walk out."