Tunbridge Wells homes plan 'too large', councillor says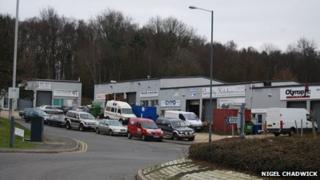 A proposed development for hundreds of new homes in west Kent is "far too large" for an area already blighted by heavy traffic, a councillor has said.
Some 545 units, comprising houses and apartments, could be built at Knights Park in Tunbridge Wells, next to the North Farm Industrial Estate.
David Neve, leader of the opposition Liberal Democrats on the borough council, said it could cause gridlock.
Developers Dandara said its plan could "improve connectivity" in the area.
The company has been holding a number of public consultation events to inform residents of its plans.
Relief road scheme
Knights Park also borders the Sherwood Estate, and is close to the A21 Hastings to London road.
Tunbridge Wells Borough Council and Kent County Council have secured £3.5m from the government to put towards a £5m relief road scheme.
However, this is dependant on local businesses surrendering some of their land, and discussions have been ongoing.
'Alleviate congestion'
Opponents of the Knights Park scheme fear the improvements will only tackle current congestion problems, and will not include any congestion caused by future developments.
Mr Neve conceded that Tunbridge Wells needed new housing, but said the new development should be at least half the size.
"The size it is, you could be back to gridlock - square one - because the traffic, even if you improve the roads, won't be able to cope with 545 units," he said.
Dandara said the improvement works would be enough to alleviate congestion at North Farm, both before and after the houses were built.
Conservatives on the council declined to comment, saying no planning application had yet been submitted.