Woman injured at Folkestone War and Peace Revival
20 July 2013

From the section

Kent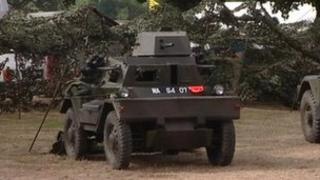 A woman has been taken to hospital with an injury to her hand after a small explosion at a military show in Kent.
The woman, who was staying at the site of the War and Peace Revival at Folkestone Racecourse, was injured before the event opened to the public.
Organisers said the woman bought a pyrotechnic thunder flash, which detonated at about 06:30 BST, from a trade stand.
Kent Police said officers were investigating the incident.
Organiser Rex Cadman said the area was isolated with a safety cordon.
"We tracked back to the source of where the item came from and put a cordon round that," he said.
"We are now investigating the incident to get to the bottom of what took place and how it took place."
Thunder flashes are used in battle re-enactments, but Mr Cadman said the device which exploded was "definitely not" part of any of the show's displays or events.
The explosion delayed the opening of the show, due at 09:00 BST, but the public were later allowed in.
A spokeswoman said the injured woman was from the "military vehicle fraternity" and there was no risk to the public.
The five-day show, which began on Wednesday, is billed as the biggest military vehicle and living history event of its kind in the world.
It is being staged in Folkestone for the first time this year after moving from the Hop Farm in Paddock Wood, where it had been held for 30 years.
The programme includes re-enactments of battles from the first and second world wars as well as depictions of life on the Home Front.