Hythe Bay fishermen meet with minister over Marine Conservation Zone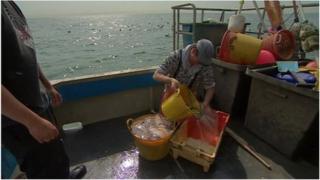 Fishermen in Kent have told a minister that plans to designate part of the coastline as a conservation area could result in them losing their business.
Fisheries Minister Richard Benyon visited Hythe Bay, which could become a 16 sq mile (42 sq km) Marine Conservation Zone (MCZ).
The government is currently consulting on 31 of the 127 proposals for MCZs around the UK.
Fisherman Richard Haisell said: "If it goes through it will finish us."
The MCZs are intended to protect areas that are important to conserve the diversity of nationally rare or threatened habitats. This would see fishing banned in certain places.
Mr Benyon described the MCZs as a "bit like a national park".
He said: "In the South Downs National Park you can still farm there, still run a business there.
"But you have to do it in a certain way and that's what I want to see happening in places like this."
'Taken away forever'
However, fishermen have voiced concerns that their industry could be severely damaged.
Fisherman Mark Tart said: "It's prime fishing grounds and probably represents 30% of our year's income and that's not just this year.
"Once it's closed it's closed - it'll be taken away forever."
They have been supported by Folkestone and Hythe MP, Damian Collins, who said: "Fishing in Hythe Bay has been part of the community for centuries.
"It's a very important part of the local economy, the livelihoods of the fishermen depends on it and lots of other businesses."
Five of the proposed MCZs are in the South East - Beachy Head West, Hythe Bay, Folkestone Pomerania, Thanet Coast and Medway Estuary.