Rochester Airport expansion plans 'dangerous'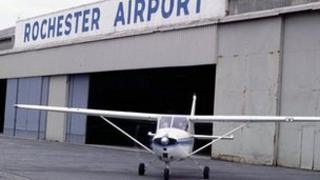 Plans to expand an airport in Kent are "dangerous", a campaigner opposed to the proposals has claimed.
Medway Council wants to spend over £4m replacing two grass runways and developing a business park at Rochester Airport.
Campaigner Bill McClellan has started a protest group over fears about noise and safety.
But Alan Jarrett, the authority's deputy leader, said safety and noise issues had been "adequately covered".
Many of the buildings at the airport date back to the 1930s, with temporary huts being used.
The authority claims the plans, which include closing two grass runways and replacing them with a grass and a paved runway, would create 1,000 jobs.
'Less noise'
But Mr McClellan said: "It's dangerous.
"The plan was to focus the traffic on one concrete runway pointing towards a highly-populated residential area.
"It's only a matter of time before the stricken aircraft comes down in a residential area."
Teresa Murray, deputy leader of the Labour group on the council, said she was happy for the airport to stay as it was.
"The industrial development and the jobs can happen around it," she said.
Conservative Mr Jarrett said noise and safety concerns had been dealt with.
"Safety issues are we think very adequately covered by the CAA [Civil Aviation Authority] who issue licences for airports," he said.
"And the noise issues also - they say a paved runway will have a shorter landing and take-off and therefore less noise."