Smoke continues from Sittingbourne recycling fire
8 July 2013

From the section

Kent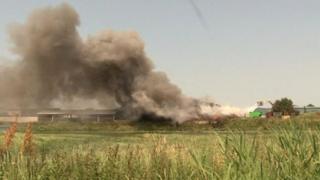 Smoke is continuing to affect residents and businesses near a recycling depot in Sittingbourne after a fire which started on Sunday morning.
The blaze, in Gas Road in the Milton Regis area, broke out just after 08:00 BST, Kent Fire and Rescue Service said.
Residents and businesses have been advised to keep windows and doors shut as a precaution.
The fire service said it was working with the Environment Agency to protect a nearby creek from contamination.
Chris Colgan, area manager with Kent Fire and Rescue Service, said: "Our major concern has been an environmental issue.
"The site is bordered by a creek and it's of scientific interest.
"We want to be able to keep the creek as it's meant to be and so preventing any pollutants going into there is one of our major concerns weighed up against air pollutants."
'No major hazard'
He said the fire had broken out in a 300-tonne pile of electronic waste at the recycling depot.
Witnesses described seeing thick black smoke billowing over the town and an area of the site ablaze on Sunday.
Mr Colgan said: "There are no TVs and no fridges involved in this particular pile, but the plastics give off toxic smoke, and noxious fumes so they are a hazard.
"There's no major hazard through the air pollutants to general public."
At the height of the incident, about 50 firefighters were at the scene, but the blaze was brought under control by about 13:00 BST and was tackled with compressed air foam.
Fire crews remained on the scene overnight, spraying water on the fire and damping down hot spots.
Two men were taken to hospital and treated for the effects of smoke inhalation.