Fears over Sevenoaks grammar annexe rival bid
2 July 2013

From the section

Kent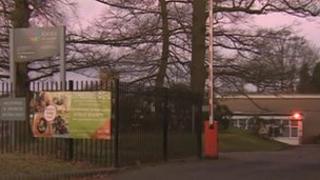 Campaigners fear that a grammar school's plans to expand could leave a Kent town without selective provision.
Weald of Kent Grammar has bid to run a grammar school annexe in Sevenoaks, rivalling proposals by Invicta Grammar.
Sarah Shilling, Sevenoaks campaigner, said she feared Weald of Kent would expand its Tonbridge operation at the expense of the Sevenoaks annexe.
But Weald of Kent governors said they were very serious about the annexe bid.
Mrs Shilling, who set up the Sevenoaks Grammar School Campaign, said: "I don't believe it [the Weald of Kent bid] is a plan for an annexe at all.
"I believe it's a plan, if you read their proposal, it's for a permanent expansion in selective places in Tunbridge and Tunbridge Wells first.
"Only when they've done that and there's enough need for additional places and I don't believe there will be, only then will they do the annexe."
'Proximity not an issue'
Weald of Kent's chairman of governors David Bower said they recognised the need for grammar places in Sevenoaks, but originally understood Kent County Council wanted a school with four forms of entry which it didn't consider viable.
He said the school submitted its bid after being assured by the council that figures "stacked up" for six forms of entry, which was what it was going for.
He said they were better placed geographically to run the annexe, already had many pupils from Sevenoaks and traditionally served the area.
Dr Phil Limbert, chief executive of rival bidder Valley Invicta Academies Trust, said the primary objective was grammar provision in Sevenoaks.
He said: "The most important thing is that they get the school in the town, not who provides it."
He added he did not believe proximity was an issue in choosing which school ran the annexe but the key feature would be to have an annexe that had the same head teacher and the same governing body as the main school running it.
In March, Invicta was named as the council's choice to run the annexe, before the Weald of Kent bid was submitted.
Councillor Roger Gough said the council had worked to develop a partnership with Invicta and the authority also discussed the bid by Weald of Kent with the school after it became public.
He said Education Secretary Michael Gove would decide which school ran the annexe.
Earlier this year, the government said it intended to use the council-owned site in Seal Hollow Road - currently occupied by the Knole Academy which moves out in 2015 - for a free school.