Kent war artist Graeme Lothian shot by Taliban sniper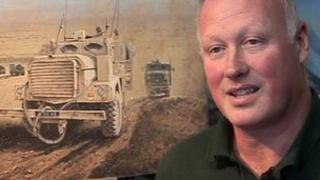 A former paratrooper working in Afghanistan as a war artist has been shot by a Taliban sniper.
Graeme Lothian, from Tunbridge Wells, was flown back to the UK on Wednesday.
The 53-year old is being treated at Birmingham's Queen Elizabeth Hospital where his condition is stable.
Mr Lothian went on tour in Afghanistan as one of the Armed Forces' official war artists on 6 June. His partner Sameena Shakoor said she hoped he would be able to return home next week.
Dr Shakoor said she first heard the news on Sunday afternoon.
She said when she spoke to him on the phone, he had not been able to explain what had happened and passed her over to a colonel, who said he had suffered a fragmentation injury.
'Smashed bones'
"When I asked him to explain what it was he said he couldn't say on open airwaves what it meant," Dr Shakoor said.
"But I looked it up online and it usually means some sort of blast injury, either from a grenade or an IED [improvised explosive device].
"He told me it affected the left arm and that really worried me because that's his functioning arm - his painting arm."
Dr Shakoor said her partner had undergone three operations so far, including a nerve graft and having a plate put in his wrist.
"A lot of hand bones have been smashed because he was shot by a sniper in his left forearm," she said
"I don't know whether he's going to be able to move his hand in a functional way, let alone to be able to do fine art.
"He's singing the praises of all the medical staff, the nursing staff, the ancillary staff," she added.
"I'm reassured he's in the best possible place he could be."
Mr Lothian has painted in places including Jordan, Syria, Oman, India and Australasia.
He works part time as a postman to supplement his income from art.