Weald of Kent grammar wants to open Sevenoaks annexe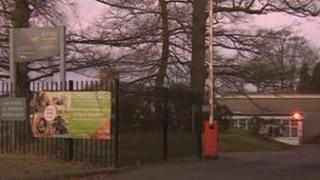 A second grammar school has said it wants to set up an annexe in Sevenoaks after a campaign by parents to expand selective provision in Kent.
Weald of Kent Grammar School in Tonbridge said it was consulting with local people about the feasibility of setting up a six-form entry annexe.
Kent County Council (KCC) has already named Maidstone's Invicta Grammar School as its choice to run an annexe.
KCC said its discussions with Weald of Kent ended in January this year.
Kent is one of the few areas of England which retained grammar schools after the majority were abolished in the 1960s and 70s.
The law forbids the opening of any new grammars, but changes made last year enable existing schools to expand.
More than 2,600 people in Sevenoaks signed an online petition calling for such an expansion, arguing the area was the only part of Kent without a grammar school.
KCC has identified a possible site in Seal Hollow Road, currently being used by Knole Academy, for the grammar school annexe and Invicta is currently holding a public consultation about setting up a six-form entry annexe.
'Better placed geographically'
In a letter to parents, Weald of Kent's head teacher Mrs M E Johnson, said KCC's original proposal, for a four-form entry was not considered by its governors to be an "effective learning environment".
But she said they believed Weald of Kent would be the best school to run a larger annexe.
"Being only 10 miles from Sevenoaks, we are better placed geographically to offer enriched curriculum support by moving staff between sites and provide full school community activities," said Mrs Johnson.
Sarah Shilling, of the Sevenoaks Grammar School Campaign, said the Weald of Kent proposal "smacks of a spoiler".
"Weald of Kent have never previously expressed any enthusiasm for a Sevenoaks annexe," she said.
"This leaves open the door for their consultation to conclude that there is insufficient demand for a six-form entry school in Sevenoaks, leading to the convenient recommendation that the solution is for an expansion on their existing site in Tonbridge."
KCC said it had been working closely with Valley Invicta Academies Trust in recent months.
"We have sent an initial proposal to the Department for Education, and a formal application is expected by the department by the end of July," it said.
"While the success of any proposal is in the hands of the secretary of state, it would need the support of the county council.
"Discussions with the Weald of Kent Grammar School during 2012 concluded with the school sending a letter to KCC in January this year, stating that the governors would not be pursuing an interest."