Medway Maritime Hospital A&E department 'dangerous'
29 May 2013

From the section

Kent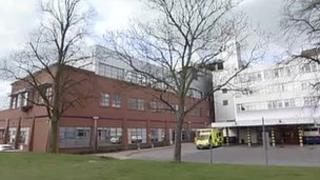 A top consultant has criticised the "dangerously unsafe" emergency department at one of Kent's hospitals.
Robert Ritchie, emergency medicine consultant at Medway Maritime Hospital in Gillingham, has written to senior managers, outlining his concerns.
His open letter revealed a litany of shortcomings he said was affecting the quality of patient care in A&E.
The hospital trust said it was trying to manage pressures that have caused the problems but denied it was unsafe.
Mr Ritchie sent his email to senior managers, claiming overcrowding and demands on resources were not only making it dangerous for patients but demoralising for staff.
'Failing our patients'
His four-page email included incidents of:
Ambulance patients on trolleys or in chairs "stacked up to three rows deep" around the main hand-washing areas or in staff corridors
Admitted patients remaining in the emergency department for more than 12 hours at a time "on a weekly basis"
Overcrowding leading to errors and near-misses and compromising patient dignity and confidentiality
And he argued: "We are failing our patients and not providing a suitable quality of care."
Medway Maritime deals with 90,000 patients a year in its emergency department and is tackling the twin pressures of increasing demand and financial restrictions.
Tracey Crouch, MP for Chatham and Aylesford, told the BBC: "The A&E department was built to take 50,000 patients per annum and it's actually now taking 90,000.
'Not daily occurrences'
"So clearly the A&E department is perhaps not fit for purpose in that sense, but then that requires investment, and investment comes from central government."
Dr Gray Smith-Laing, the trust's medical director, said the pressures that had caused the crises outlined by Mr Ritchie were not peculiar to his hospital.
He said: "What Mr Ritchie is describing is a situation which is faced by all departments across the country, which are overburdened and very busy.
"I think I recognise all the incidents that he describes there, but these are not daily occurrences.
"When they do occur, we investigate them and we try and learn lessons to make sure that they don't happen in the future."
But he denied the emergency department was unsafe, although he admitted the problems were "not going to be solved in the immediate future".