Paris Brown youth commissioner appointment 'a fiasco'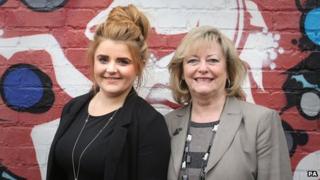 A parliamentary report says the appointment of a Kent youth police and crime commissioner was a "fiasco".
Paris Brown was appointed by Kent's police and crime commissioner (PCC) Ann Barnes, but resigned after complaints about messages posted on Twitter.
Keith Vaz MP, chairman of the Home Affairs Committee, said: "We need to guard against maverick decision-making."
Ms Barnes said the report was "downright disgraceful."
A spokesman for Ms Barnes said "That aspect of her plans hasn't worked out.
"Paris never even started the job, so there was no cost implication."
'Political mischief'
The committee also said Kent's commissioner Ms Barnes, had appointed a Liberal Democrat campaign manager "with no apparent policing experience".
Ms Barnes said: "I have not appointed a deputy or a political advisor as I am free from party politics."
Peter Carroll, a former Lib Dem Shepway councillor, said: "I was not appointed in a political capacity.
"I work implementing Anne Barnes' manifesto."
In a statement, Ms Barnes said: "I am absolutely appalled that the Home Affairs Committee has published inaccurate information in relation to my office.
"This is downright disgraceful and if we cannot rely on elected members in parliament to issue accurate and truthful information then who can we rely on," she said.
"I sincerely hope there is no political mischief making in these inaccuracies because that would be totally inexcusable from a parliamentary body."
A spokesman for the Home Affairs Committee said it would not be issuing a response to Ms Barnes' comments.