North Farm Industrial Estate relief road: Firms 'must donate land'
18 May 2013

From the section

Kent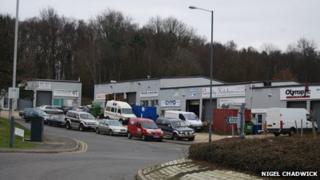 Some £3.5m of government funding to tackle congestion at a Kent retail park could be pulled if local businesses fail to surrender some of their land.
A total of £5m is needed for the North Farm Industrial Estate relief road scheme in Tunbridge Wells.
David Brazier, the county councillor in charge of transport, said the scheme could only go ahead if local businesses donated some land.
David Aisher, of Drakes Plumbing Supplies, said he accepted the plan.
Mr Brazier said businesses surrendering land was "the only way we can go forward".
'No money'
"We know how much money we've got. We know how much the highways works are going to cost and then there is the cost associated with the moving of water, telephones," he said.
"And we have no money for land. There are 300-odd landowners and they need to provide the land to us, not usually very much, that we need to expand the highway to a dual carriageway."
He said most of the landowners the council had spoken to so far "recognise that there is mutual benefit".
"They will get people in and out of their premises more easily, more people will shop, their staff will be happier," he said.
"It's a win for everybody if we can do this."
Mr Aisher said: "The chances of getting this money in the first place were quite slim and I think the local council and the county council have done very well to have been able to produce this at short notice."
The work, under the Department for Transport's local pinch-point fund, includes widening part of Longfield Road and replacing T-junctions at the cinema and John Lewis turnings with roundabouts.
The entrance to PC World and B&Q will become a gyratory system.