Conningbrook Lakes country park plans approved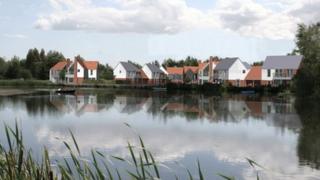 Planning permission has been granted for a lakeside village with 300 homes on the outskirts of Ashford, in Kent.
The Conningbrook Lakes country park, on the site of a former quarry, will have recreational facilities including sailing, canoeing, and fishing.
There will also be cycle links into Ashford and through to the Kent Downs.
The approval by councillors follows two years of consultation with the community and organisations who are keen to use the facilities.
Stadium facilities
The proposals were submitted to the borough council by the locally-based Brett Group.
Next to the site is the Julie Rose Stadium, which has a 400m all-weather running track, an 800-seater stand, floodlighting and an indoor training area.
The developers said they hoped the two sites could co-exist alongside each other, with more people making use of the stadium's facilities.
A separate planning application by the council for the use of the park was also approved by councillors.