'Why did dad kill mum?' - trauma lingers after killing
17 May 2013

From the section

Kent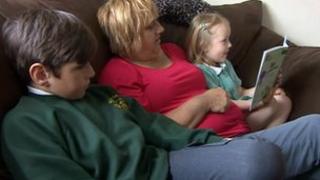 "Why did my dad kill my mum?" - just one of the many questions grandmother Jackie Gardner still has difficulty answering two years after her daughter was stabbed to death.
Natalie Walker, 34, was attacked by her estranged husband Gary at their former home in Broadstairs, Kent, in 2011.
Kallum, 14, Harry, nine and Maisie, aged six, are now being cared for by their 62-year-old grandmother.
Maisie was three years old when she witnessed her father repeatedly stab her mother.
'Tragic situation'
"All of a sudden she will be playing and she will say, 'Do you remember the day my mum died, when my dad stabbed her?'," said Ms Gardner, speaking from her house in Broadstairs.
"She will just say it here or in the middle of a class at school.
"Or she will say. 'I miss my mum - why did my dad kill my mum?'"
Now aged six, Maisie also struggles to sleep and puts her hand over her father's face whenever she sees family photos because she does not want to look at him.
Brothers Kallum and Harry watched their mother stagger outside their home and collapse while they were playing football.
Mrs Walker was taken to hospital in Margate but died from her injuries shortly afterwards.
In November 2011 former soldier Walker was jailed for a minimum term of six years after admitting manslaughter.
"They have lost their mum through a tragic situation by their father," Ms Gardner said.
"So they haven't just lost their mum, they have lost their mum, their father and their home."
The family's story was featured on a Channel 4 programme about the work of Victim Support's National Homicide Team.
Mrs Walker's sister Michelle Elks said the team's support was invaluable but victims needed more help.
"Once the court case is over that's it - it's just a get on with your life sort of thing," she added.
"It's an uphill struggle for the families afterwards - people don't see that."
'Outlook changed'
Ms Elks said any change in the children's social worker had an adverse effect and their behavioural problems were a real challenge for the family.
She also said the children's outlook had changed and they were not as "carefree" as they had been before the killing.
Victim Support spokesman Jeff Gardner said the national homicide team had supported about 3,000 people since it was formed three years ago.
"We know the service is a great support to families going through the most awful experience you can possibly imagine," he said.
He said the charity helped and supported victims with everything from understanding their emotions to practical issues such as filling in forms.
"There are big benefits with it being a charity because it has a degree of independence from the criminal justice system," he added.