Margate traders' Ofcom complaint follows Portas show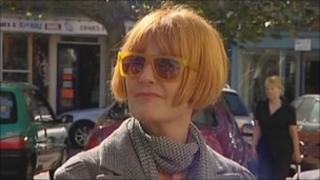 Three Margate traders are complaining to broadcasting watchdog Ofcom about a programme by retail expert Mary Portas on her work to revive the Kent town.
The programme, Mary Queen of the High Street, sought to show traders as unwelcoming and hostile, former members of the Margate Town Team have claimed.
Spokeswoman Louise Oldfield said it broadcasted "a fabricated storyline" that went against the town team.
Channel 4 said the programme was fair and accurate and not fabricated.
The three people behind the complaint, Robin Vaughan-Lyons, Roxana Tesla, and Ms Oldfield, were founder members of the Margate Town Team which made Margate's winning bid to become one of the Portas Pilot Towns and receive £100,000 in government funding.
All three resigned in August and were later replaced, Ms Oldfield said.
She resigned because the town team had been undermined and there had been bullying, she added.
'Conflict scenes created'
Ms Oldfield said the Ofcom complaint was because she and her colleagues felt they had been "grossly misrepresented" and the programme had "alleged and created conflict scenes" which became a storyline for the show. She said she had been left "sad and disappointed".
She said the complaint was currently being made by three people but others may back them.
A statement from Channel 4 said: "Mary is passionate about her work to help reinvigorate the high street and the programme was made in that spirit.
"We strongly dispute that anything was fabricated.
"The programme is fair and accurate and fully complies with the fairness provisions of the Ofcom broadcasting code."
The production company Optomen also issued a statement, which said it strongly refuted that anything was fabricated. It also said the programme was fair and accurate and complied with the Ofcom code.
Mary Portas has not yet commented.