'No response' in Dover RSPCA live exports row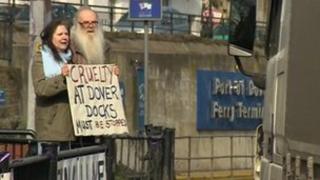 An animal welfare charity said it has not been given permission to carry out inspections of animals passing through the Port of Dover.
The RSPCA said it had received no response from the Dover Harbour Board to its request for permission to "safeguard the welfare of the animals".
Inspectors had been at the Port of Ramsgate until live animal exports were transferred to Dover on 2 May.
The Dover Harbour Board said it would not be commenting.
Gavin Grant, chief executive of the RSPCA, said: "We were extremely saddened to see that live exports have resumed from the Port of Dover - a move that could see an increase in the number of animals that will unnecessarily have to endure long journeys to the continent.
"Like Ramsgate, Dover does not have facilities at or near the port to deal with emergencies and our inspectors have not been granted permission to the port to monitor the welfare of the animals."
'Duty bound'
On 1 May the Dover Harbour Board (DHB) announced it had given Barco de Vapor permission to start exporting live animals following two berthing trials.
The MV Joline, which has a capacity of seven trucks, will initially make one shipment a week from Dover to Calais.
Previously, the DHB had said it was "duty bound" to facilitate the legal trade and that any change to the legality of animal exports could only be addressed by politicians.
In a letter to the RSPCA in April, the Dover Harbour Board (DHB) said: "We can assure you that the DHB will be rigorous in demanding through the relevant authorities that all aspects of animal health and welfare whilst in the part are fully complied with.
"We would recommend that RSPCA approaches the Animal Health and Veterinary Laboratories Agency regarding the matter of inspections in Dover."
In September live animal exports were temporarily suspended at the Port of Ramsgate after an incident in which 45 sheep died.