A21 widening in Kent a 'matter of when not if', says MP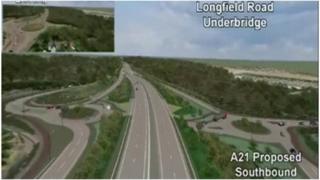 The widening of the A21 in Kent has always been "a matter of when rather than if," an MP has said.
The Highways Agency plans to upgrade a 2.5 mile (4km) section of the A21 between Tonbridge and Pembury from a single to a dual carriageway.
Tunbridge Wells MP Greg Clark said: "The longer it's left, the more it will cost".
But the Woodland Trust and the Kent Green Party claim that 22 acres of ancient woodland will be destroyed.
A 12 day public inquiry into the scheme began earlier. The stretch of road carries more than 35,000 vehicles every day.
The Highways Agency said the work would be expected to cost between £100m and £151m.
Conservative Mr Clark said: "Everyone knows that this is a stretch of road that needs to be turned into dual carriageway.
"It's always been a matter of when rather than if.
"You've got a dual carriageway coming down from Sevenoaks to Tonbridge, another one starting at Pembury going further on to the Blue Boys roundabout.
"It's a winding country lane in the middle of an A road."
Businesses have said the scheme is needed to reduce a bottleneck and government money could be available from 2015.
However, the Woodland Trust said the scheme would damage the environment.
Oliver Newham, from the trust, said: "There are over 1,000 species of fungi in here, 10 species of ladybird, 24 species of bee - I could go on.
"We're talking about a woodland that's been here for 400 years - that's a lot of history to lose."