Folkestone Airshow cancelled due to insufficient funds
13 May 2013

From the section

Kent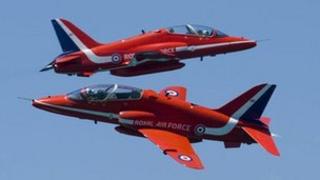 The Folkestone Airshow, which was due to have taken place in June, has been cancelled due to funding problems.
Organiser Folkestone Town Centre Management said the decision followed "intense last-minute efforts to secure guaranteed pre-event funding".
Airshow project manager Yvonne Holder said "a terrific amount of work" had gone into planning the free event and it was cancelled "with immense regret".
The three-day event had been expected to attract up to 100,000 visitors.
'Insufficient funds'
The air show was due to have been held on the Leas and the seafront on Saturday 8 June, with associated events the day before and the day after.
"We know it will disappoint thousands of people," Ms Holder said.
Last year, the Red Arrows flew their first public aerobatic display of the 2012 season as a team of seven at the event.
Ms Holder said that because the event was free most of the revenue needed to meet its considerable up-front costs depended on getting in money from sponsorships, donations and fund-raising activities before the air show weekend.
"In the end, lack of financial support for the Fly Folkestone fund-raising campaign meant that Folkestone Town Centre Management (FTCM), a not-for-profit organisation, had to decide that the funds available were not sufficient, time to seek new sources of income was too short and the financial risks of proceeding with the event, therefore, were too great.
"After much consultation, we agreed that we would not be able to meet the deadline to enable complete plans to be assessed."
Ms Holder thanked companies and organisations which had contributed "in cash or kind", along with "the many volunteers and members of the public who have given us fantastic support".
She added that organisers were looking into the possibility of staging a future event.
"We are examining the suggestion that financial supporters be asked to carry forward their commitment so that an event with guaranteed up-front funding conditions can be staged - possibly, next year," she said.