Kent County Council: £40m cut 'would not affect services'
10 May 2013

From the section

Kent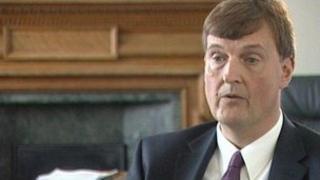 Up to £40m could be saved from the adult social care budget without services being affected, Kent County Council (KCC) has claimed.
Paul Carter, leader of the council, said the savings would come from a reduction in administration tasks being undertaken by office staff.
The council said the focus would be on caring for people in their own homes.
The Liberal Democrat opposition said the cuts could lead to elderly people feeling isolated and uncared for.
Mr Carter said: "Just because you are spending less money it doesn't mean you can't maintain, or indeed improve, services which you are delivering if you go about it in an intelligent way."
He said by restructuring "the middle office processes" the council could save up to £40m each year.
Trudy Dean, from the Lib Dems, said: "In this area, almost of all the costs are salaries of those employed to give care to others.
'Very unsatisfactory'
"If there are large cuts to be made, it's almost inevitably in the time those individuals spend with each client and the quality of service that they are able to give."
Mrs Dean, chairman of the cabinet scrutiny committee, said the most common complaint she received was that social workers were only able to spend 10 or 15 minutes with each elderly person.
"That's a very unsatisfactory service and leaves the client feeling isolated, uncared for and may lead to their situation becoming worse rather than better."
Conservative-run KCC has an annual budget of £360m for adult social care, and consultants have identified savings of between £26m and £40m, the council said.
Mrs Dean said the consultants had also suggested the number of companies providing care could be cut from about 150 to around 30.
Such a measure would save between £7m and £8m, she said.
Nadra Ahmed from the National Care Home Association said: "In the long run it could turn out to be much more expensive when you look at health interventions such as district nurses, physiotherapists and admissions to hospitals.
"All those come out of somebody else's budget."