Freedom of the Borough of Tunbridge Wells for regiment
6 May 2013

From the section

Kent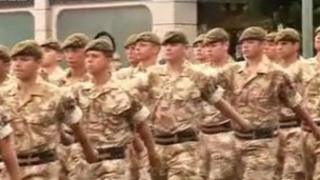 Soldiers from the Princess of Wales's Royal Regiment are to be awarded the Honorary Freedom of the Borough of Tunbridge Wells.
The Tigers will parade through the town on 15 July with "bayonets fixed, drums beating and flags waving".
The borough council is to spend £15,000 on a day of events in their honour.
Mayor of Tunbridge Wells, John Smith, said it was to recognise the service they had given "to the town, the borough and the country".
"It's something we can do to show support for the people who put their life on the line for our freedom.
"It entitles them to march through the town with bayonets fixed, drums beating and flags waving, which nobody else is entitled to do unless they have the Freedom of the Borough".
The regiment draws many soldiers from Kent, Sussex, Surrey, London, Middlesex, Hampshire and the Isle of Wight.
It is also the only infantry regiment that recruits from the Channel Islands.
It last marched through Tunbridge Wells in July 2009 in a homecoming parade after returning from a tour of duty in Iraq and Afghanistan.