Tunbridge Wells fans head to Wembley for FA Vase final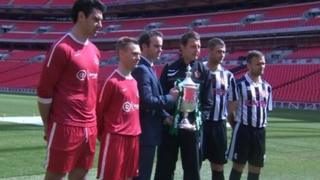 More than 11,000 Tunbridge Wells fans are heading to Wembley for the biggest game in the football club's history.
The Kent club are playing Spennymoor Town, from County Durham, in the final of the FA Vase.
Their opponents have been champions of the Northern League three times.
Martin Larkin, manager of the Wells, said: "Spennymoor are going to be a very, very good side and we need to be at our very best to compete."
He added: "We've also got a lot of weapons, a lot of talent through our team, and if we perform on the day, we're going to cause them problems."
'Nothing to lose'
Larkin, whose great-grandfather was a linesman at a couple of FA amateur finals at Wembley during the 1920s, said: "We're not going there to have a bit of fun. We're going there to win."
The club became only the second team from the Kent Hurlimann Premier League to reach Wembley by beating the Durham side, Shildon, 4-3 on aggregate in the semi-final.
Josh Stanford, who only joined the club as a midfielder at the start of the season, said "We're the underdogs, so we've got nothing to lose.
"We're going to give it all we've got."
His mother is the fashion designer Karen Millen.
"The whole family are fans," she said.
"It's an amazing achievement. How many players get to go to Wembley?"
At the start of the match, club captain Jason Bourne will be walking out on the Wembley turf with his children, Connor and Sidney, who are mascots for the day.
"Not only to lead my team and my town out at Wembley, but to have my kids at my side is really special," he said.
"It's not really anything that anyone gets to embrace, not even footballers at the top of their game who are playing week in, week out in the Premiership."
He said reaching the final was an "amazing feeling".