Second Dover berthing trial of animal export ship MV Joline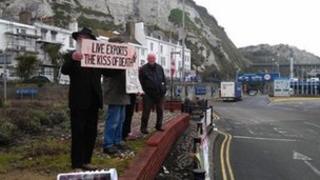 A ship used to export livestock from the UK has undertaken a second berthing trial at the Port of Dover.
The MV Joline, which has been operating from Ramsgate in Kent, is hoping to berth at the Eastern Docks.
It returned to Dover for further tests to assess the port's suitability for live exports as a trial last month proved inconclusive.
The ship is hoping to use the port to cut down on the time it takes to cross the English Channel.
Dover Harbour Board said the second trial followed "some further modifications" to the MV Joline by her owners.
It said important information was obtained following the first berthing trial "as to the precise adjustments that were needed in order for the ship to moor safely and securely in the berth and connect properly with the loading bridge".
It added that a full evaluation of the second trial would be carried out before any final decision was made as to the suitability of the vessel to operate from the Port of Dover.
A few protesters, one holding a banner describing live exports as "the kiss of death", were at the port as the second berthing trial got under way.
Last year Thanet council banned live exports from Ramsgate, but the ban was later overturned by the High Court.