Kent BMX riders 'could help find soldier Josh Thomas'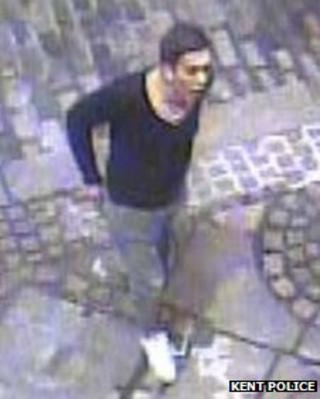 Two BMX riders could have clues to the whereabouts of a missing Welsh soldier in Kent, police said.
Josh Thomas, 18, was last seen on CCTV in Rochester at 01:00 BST last Wednesday, after spending the night with friends at the City Wall pub.
Kent Police have appealed to two potential witnesses, seen on BMX bikes in Corporation Street, to come forward.
The soldier's father, Gary Thomas, is due to travel from south Wales to Kent on Thursday to help with the search.
Mr Thomas, from Seven Sisters, near Neath, said he spoke to his son before he went out that night and there was "nothing untoward" and if his son had any issues he would have talked about it.
'Worst fear'
He said: "My worst fear is that he might have gone in the water somehow, that is my absolute worst fear.
"Everyone knows up there they've had boats out doing surface searches, but that's it at the moment."
He said he would be in Rochester for a few days to visit the places where his son had been and see what he could do to help.
Police said CCTV showed the soldier, from Brompton Barracks in Chatham, on Rochester Bridge when a car stopped near him. He was also seen on a traffic island on the A2 outside the Crown pub.
Det Sgt Rik Spicer said: "CCTV shows two males on small bikes riding along Corporation Street just minutes after Josh had been there. I would appeal to them to come forward and help us with any information that might prove helpful in locating Josh."
Mr Thomas is described as white, about 5ft 9in (1.8m) tall, of slim build and with short dark brown hair.
He was wearing a dark blue Lyle and Scott jumper with white and red collar, grey jeans and white Converse trainers.