Swanley soldier 'killed by smoke shell'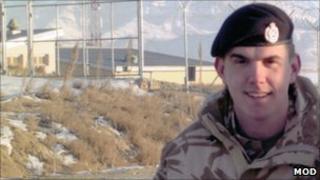 A soldier from Kent was killed in Afghanistan when a smoke shell, meant to confuse the Taliban, hit an army compound, an inquest was told.
Sapper Mark Antony Smith, 26, from Swanley, died in the Sangin area of Helmand on 26 July 2010.
The inquest at the Old Town Hall, Gravesend heard that 136 rounds had been fired over the compound that day with two falling short of their target.
Two others were injured when the round hit compound 22.
One shell fired in the morning had landed more than 1,500ft (450m) from its target in the morning, hitting compound eight, but no-one was injured.
In the afternoon, a second shell landed 870ft (264m) short, landing on compound 22, killing Sapper Smith and injuring two others, the inquest heard.
Lt Col Edward Moorehouse, who was controlling the fire mission, said: "The round wasn't going where it was being told to go. Something had gone badly wrong there."
The smoke shells, which cover the surrounding area with smoke, were used to help troops travel between compounds.
'Hear screams'
Lt Col Moorehouse said: "We wanted to get into the insurgents' minds and try and psychologically unhinge them."
He said he had only used the 105mm rounds twice before and was forced to use them because stocks of 81mm had been depleted.
Cpt John Anderson was thrown three metres into the air when the shell fell on compound 22.
He said: "I looked across at the engineers and then Sapper Smith exploded in front of me.
"I thought because I saw his back touch the wall that he had leant against an IED [bomb] in the wall which the Taliban had been planting.
"I could hear screams from those injured in the blast."
Sapper Smith served with 36 Engineer Regiment, based in Maidstone.
He joined the Corps of Royal Engineers in 2001 and was posted to 36 Engineer Regiment a year later.
He was part of a search team supporting 40 Commando Royal Marines Battlegroup, Combined Force Sangin, carrying out a clearance of bombs when he was killed.
The hearing continues.