Kent A&E departments missing targets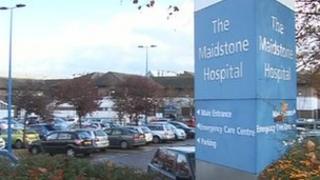 Four Kent health trusts' A&E departments are regularly failing to meet government treatment targets.
Darent Valley, East Kent, Maidstone and Tunbridge Wells, and Medway NHS trusts failed to treat and discharge 95% of patients within four hours.
Maidstone and Tunbridge Wells trust has failed meet the targets every week since mid-December.
Dr James Ironside, of Maidstone Hospital, said up to 15% of patients could be seen by their GPs.
In two weeks in both February and March, all four trusts failed to treat and either discharge, or admit to a ward, 95% of patients seen in their A&E departments.
The Maidstone and Tunbridge Wells NHS Trust failed to reach the 95% figure every week between 10 December and 10 March.
Ian Ayres, chief officer of the NHS West Kent Clinical Commissioning Group, said: "A&E waiting times over four hours are unacceptable, and we're doing everything we can to make sure people don't have to wait too long to be seen.
"However, the nature of emergencies is that they cannot be planned for, and there will be times when circumstances dictate that people with more minor injuries have to wait longer than expected."
He said waiting times could be reduced if patients only went to A&E in a "real emergency".
Dr Ironside added: "The main figure for patients who could be seen by their GP or at another time is somewhere between 10 and 15 percent of people who attend A&E."