Margate Dreamland: Owners in High Court fight to retain site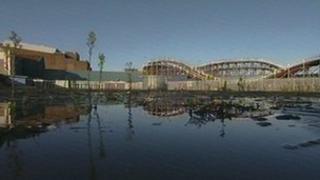 The decision to grant a council a compulsory purchase order on land for a £10m amusement park is "flawed", the High Court has been told.
Thanet District Council wants to restore a famous rollercoaster and turn the disused Dreamland site at Margate, Kent, into a top attraction.
The owners of the site are appealing against the decision by the government to give the site to the council.
They claim a park with historical rides and sideshows is unaffordable.
The owners - DreamlandLive and eight other parties - are proposing the construction of 400 homes and a fun park instead.
The secretary of state for communities and local government approved the acquisition of the land for the heritage scheme in May 2011 after a public inquiry.
Arson attack
Richard Glover QC, appearing for the owners, argued that the minister's decision was flawed and the compulsory purchase order must be quashed.
He said the minister had reached the conclusion that the heritage park was "operationally viable" on a false basis and had failed to weigh up all the evidence properly.
He told Judge Sycamore, sitting at London's High Court, that if the compulsory purchase order threat was lifted, the claimants intended to bring forward development proposals that would be "of significantly greater benefit to Margate than the CPO [compulsory purchase order] scheme".
The council hopes the site, which shut in 2003, could partly reopen next year.
Under its plans, the Dreamland Trust would be given the site for a peppercorn rent.
Working in partnership with the Dreamland Trust, the council wants to create an amusement park with historical rides, classic sideshows, vintage cafes, restaurants and gardens with special events and festivals.
It also wants to restore the Grade II-listed Scenic Railway, which was damaged in an arson attack in 2008.
The High Court hearing is due to last two days.