Dover trial of animal export ship MV Joline inconclusive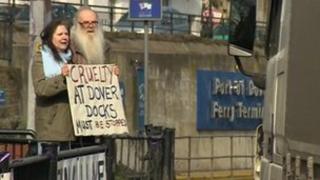 The result of a trial to establish whether a ship used to export livestock from the UK can operate out of Dover is "inconclusive".
Dover Harbour Board (DHB) said Barco de Vapor, which currently operates from Ramsgate in Kent, had applied to berth the MV Joline from the Eastern Docks.
DHB said Barco de Vapor wanted to carry livestock transporter vehicles to and from Calais.
The ship arrived in the Port of Dover to undergo the berthing trial earlier.
It was greeted by a number of protesters calling for "the cruelty" of live animal exports to stop.
Thanet council banned live exports from Ramsgate last year but the ban was later overturned by the High Court.
A spokeswoman from DHB said of the trial: "The result was inconclusive but important information was obtained as to the precise adjustments that will need to be made in order for the ship to moor safely and securely in the berth and connect properly with the loading bridge.
"It is expected that the owner will arrange for further modifications to be made to the vessel which will then return again for further proving trials."