Kent hospice patient's gold ring stolen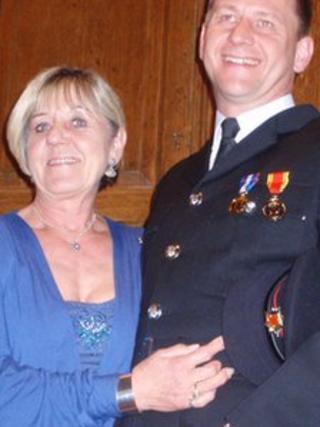 A gold ring has been stolen from the hand of a dying cancer patient who was staying in a hospice in Canterbury.
The gold band with a large square diamond was given to 65-year-old Wendy Dolton by her late husband to mark their 40th wedding anniversary.
Mrs Dolton, who lived near Dover, died at Pilgrims Hospice on 14 February. Kent Police said the ring could have been stolen within hours of her death.
The hospice said it had no evidence to suggest any staff were implicated.
Chief executive Steve Auty said the hospice was co-operating with police and he was also leading an internal investigation.
Mrs Dolton's son, Sean, said she was targeted while she was at her most vulnerable.
He said: "It's a violation of morality that is just unbelievable. I'm speechless. Whoever did this is absolute scum."
The 46-year-old said he saw his mother wearing the ring at about 18:00 GMT on 13 February, the day before she died.
'Not just any ring'
Police believe the ring was taken between that time and 18:00 GMT on 14 February, an hour after she died.
Her son said: "I feel sick to know that someone could do that in the last hours of her life.
"It's not just any ring. It was a 40th anniversary present from my father in the last months of his life, so the value is hugely sentimental.
"The fact that someone could do that to someone when they are at their most vulnerable is unbelievable. She would have been lying there and unable to do anything."
PC Chris Poulter said: "The theft of the ring has caused a great deal of upset for Wendy's family at a time when they are already trying to cope with her sad passing."
He added: "Pilgrims Hospice has been fully co-operative and our investigation continues.
"We have already visited some second-hand shops and will continue to make inquiries."
Mr Auty said: "We are all shocked and saddened by this whole episode. Pilgrims Hospices is co-operating fully with the police and I am leading our own internal investigation."
"We are not aware of an incident like this occurring in our three hospices at any time in our 30-plus years' history."
He said: "Mrs Dolton's family are, understandably, deeply upset by what has occurred.
"I have spoken at length with Mrs Dolton's son, Sean, and assured him we are doing whatever we can to find out what happened."
And he added: "Patients and families receive love and care from our staff and volunteers when staying with us. That remains our primary focus which we are able to deliver because of the outstanding level of support we get from the people of east Kent."