Tunbridge Wells shared space under consideration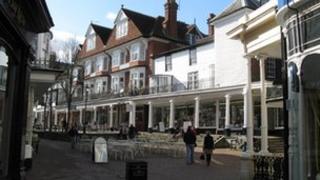 Plans for a shared space in Tunbridge Wells where pedestrians, cyclists and cars have equal priority are under consideration.
The plans, which involve the removal of road markings, traffic controls and pavements, would largely pedestrianise areas of Mount Pleasant Road.
Ashford's ring road was turned into a shared space in November 2008.
Kent County Council said the scheme had resulted in fewer accidents in the town.
Councillor Paul Barrington-King, from Tunbridge Wells Borough Council, is overseeing the authority's plans.
'Vibrant place'
He said the council was looking at making the town "a bit more pedestrian-friendly".
"It's a vibrant place and there's a bit more opportunity, certainly within the centre of town, to have shared space or to make it a pedestrian zone," he said.
Critics have argued the scheme is dangerous to visually impaired people.
Mr Barrington-King said the plans would be subject to consultation.
"We're liaising with the various representative bodies in Tunbridge Wells- civic society, town forum, etc, to make sure that we get this right and also with access groups.
"We want to make sure that the impaired aren't disadvantaged in any way."