Medway call for obesity task force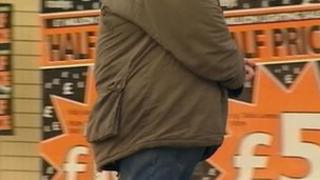 Members of a Kent council are calling for a task force to be set up to tackle the area's high levels of obesity.
Medway's Labour opposition said the council needed to be more proactive to tackle the "crisis" in which nearly one third of adults are obese.
Councillor Tristan Osborne said it should promote sport and healthy eating in schools and hospitals.
Cabinet member Mike O'Brien said the council had taken the obesity issue "very seriously for a long, long time".
Figures quoted in a report by the Academy of Medical Royal Colleges earlier this week, which called for action on obesity, put Medway near the top of adult obesity rankings.
The local authority health profiles figures show 30% of adults in Medway are obese.
The average for England is 24.2% and the wider South East 23.7%.
Mr Osborne said the task force should be set up from April when Conservative-run Medway Council's health and wellbeing board takes responsibility for public health.
"It should look at a number of issues surrounding obesity," he said.
"First of all, looking at the food they are serving people in hospital, secondly looking at the quality of food being served to pupils in schools, including in our academies, and thirdly where the council can more actively lead around school sports.
"There has been a debate ongoing for a number of years around whether we should reduce licensing for takeaways near schools.
"Some of this is already happening but it is not happening quickly enough."
'Enormous' consequences
Mr O'Brien said he recently chaired a conference on obesity with health, planning and licensing officials.
"The Conservative administration on Medway Council has taken this issue very seriously for a long, long time," he said.
"We are doing everything we can to enable people to get fit and to get exercise.
"We've funded free swimming for under 11s and over 60s and we have the Medway Mile where over 3,500 people of all ages take part."
Strood GP Julian Spinks said Medway's place near the top of the obesity rankings carried "enormous" consequences for health, such as heart disease and diabetes.
"Even simple things like arthritis are made worse and that will have an impact generally in the way that people can live their lives, go out to work and so on," he said.
"We really need to tackle this, otherwise we are building up real problems for the future."