Mystery over tusks found by Kent fisherman at Herne Bay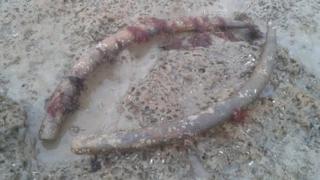 A lobster fisherman believes he may have discovered a pair of mammoth tusks off the Kent coast.
The tusks were discovered by Barry Mount off Herne Bay, when an extremely low tide allowed him to walk 0.75 miles out to explore the seabed.
He said he believed the tusks once belonged to a mammoth.
Professor Adrian Lister, palaeontology merit researcher at the Natural History Museum, said they were more likely to have come from an elephant.
He described them as a "remarkable find".
The tusks are now in the possession of Canterbury City Council which will run a series of tests to identify them.
Mr Mount said he had not seen the tide out so far for 10 years and decided to investigate the seabed.
"I looked up and saw this large tusk just sitting in front of me - I had to go over and there was another one, a pair," he said.
'Keeled over'
"My family have been here for over 200 years and back in 1950 my grandfather saw a mammoth tooth sticking out the cliff. He donated it to the museum."
The tusks have been kept submerged to preserve them before tests are carried out by the council's museum service.
"These were found in a shallow marine environment, so this beast must have been walking around, keeled over, died and the sediment must have gone over them and protected them for 12,000 years," Mr Mount said.
Professor Lister said it was hard to tell whether the tusks were fossil or modern without examining them close-up.
He said it was probably more likely they were modern as they were so well-preserved, and could perhaps be part of a cargo of African or Asian elephant tusks.
"What is actually most remarkable is the finding of a matched pair together without the skull to hold them together," he said.
"It suggests they were in the skull until relatively recently, the skull having broken or decayed away leaving the two tusks close together."
A spokesman for the council said: "Formal identification of them has yet to take place and no decision has been taken yet about what happens next.
"One option could be to display them at Herne Bay museum, but we need to establish how we would do that and the costs involved of conservation.
"It has not been long since their discovery and we will be in a position to provide more information in the weeks to come."