Tesco criticised for Dartford redevelopment delay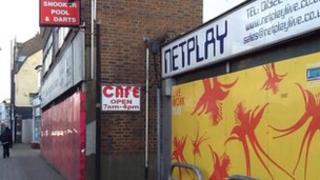 A council has urged a supermarket to speed up its plans to redevelop a neglected street months after planning was approved.
Tesco gained permission to build a store and 200 flats in Lowfield Street, Dartford, in November 2011.
It has been criticised by Dartford Borough Council for not starting construction.
The supermarket said it was still committed to the project and would be a submitting a revised application.
A previous Tesco scheme for the road, which has many boarded up properties, was rejected following an inquiry in 2005.
'New promises'
Council leader Jeremy Kite said the council is exasperated at the lack of action from the company.
He said: "The people of Dartford are not stupid and the council isn't stupid and everyday we see promises of a new development in the town centre, which is absolutely essential for our growth, but it doesn't come.
"We've got to the point now where we've had to lay it on the line to the company and tell them if they weren't going to build in Dartford they should leave and let someone else do it."
A Tesco spokesman said: "We have confirmed to Dartford Council that, having reviewed our plans, we are now ready to proceed with a revised scheme for the redevelopment of Lowfield Street.
"We have always said that we are committed to Dartford but we have had to look again at our proposals to reflect the local and regional economy and the changing shopping habits of our potential customers."