Bluewater seeks to halve its annual energy bill
13 February 2013

From the section

Kent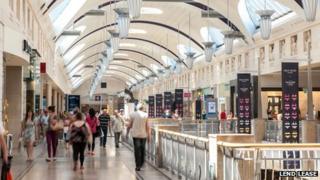 One of the UK's largest shopping centres is taking an innovative approach to try to halve its annual energy bill.
Bluewater, near Dartford, in Kent, opened in March 1999 and attracts 27 million visitors a year.
Over the last few years, its energy bill has been reduced by about 20% - to £1.4m a year - but managers are keen to improve on this, and transform it into "Europe's most energy-efficient retail complex" by rethinking their approach.
Lend Lease, the owner of Bluewater, has been working with Sefaira - a London-based company that produces energy efficiency software - to analyse its energy consumption.
Sefaira's chief executive, Mads Jensen, said it involved pinpointing inefficiencies across the centre's public areas before designing a programme of upgrades and improvements.
'Capture savings'
Pascal Mittermaier, head of sustainability at Lend Lease, explained that rather than tackling each individual area of energy separately, "an integrated and holistic" approach was being taken in order to make an impact in the way energy was managed.
"If you just change your lighting to be efficient that will have an impact on the amount of heat those lights generate, which therefore has an impact on the amount of heating you would do, which therefore has an impact on your building management system, and so-on," he said.
"So by looking at things in an integrated and a holistic way we think we can really understand all the interactions of the different energy-saving measures," Mr Mittermaier added.
He said a 50% reduction in energy consumption could be achieved by "capturing the savings from one to help pay for the next", so reducing the centre's carbon footprint even further.
Bluewater is the fourth-largest retail centre in the UK, but in contrast, the Metrocentre in Gateshead is the largest in Europe with 2.1m sq ft of shopping space.
The site in Tyneside has a three-year target to achieve an annual reduction of electricity usage of 10% from 2011 to 2013.
'Optimum amount'
Mr Mittermaier said the procedure being undertaken at Bluewater was so complex that it had not been tried anywhere else.
"We've never been able to analyse that much data the way we are now with the help of Sefaira.
"This is really where their ability to crunch literally thousands of different variables will help us determine which is the best place to invest, and the best place to put our money, to achieve the optimum amount of energy reduction."
Mr Mittermaier said he hoped the analysis would be completed in the next few weeks, after which a decision had to be made on the duration of the project.
"If energy bills keep going up the way they have in the past couple of years… if we factor those things in the call will be to implement those measures as early as possible to get the most long-term saving you can."