Medway landlords urged to take benefit tenants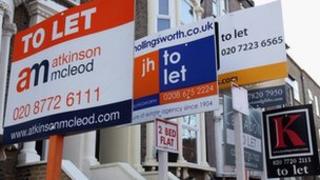 A Kent council is urging private landlords to let more properties to people on benefits to help solve the area's rising homelessness problem.
Medway Council wants tenants to sign a new code of conduct to a combat "negative attitudes" towards those who rely on benefits to pay their rent.
It said it was trying to support people so they could become good tenants.
The Landlords Association in Kent said the scheme could encourage the long-term tenancies which everybody wanted.
Councillor Howard Doe said Medway had seen a 30% increase in the numbers of people asking the council for housing.
But he said private landlords were "risk averse" to taking tenants on benefits.
'Families in chaos'
The code of conduct requires tenants to pay rent on time, register for council tax, gas, electricity and water in their own names and not to cause excessive noise or anti-social behaviour.
Compliance will lead to accreditation, which tenants can take to future landlords to show they are responsible.
Mike Barrett, chief executive of Kent-based homelessness charity Porchlight, said the council had to try to discharge its statutory duty to the homeless through the private rented sector.
"They are probably going to be dealing with families that are in chaos and families that are in fairly deep poverty," he said.
"So alongside this needs to go some kind of support element for the families in question."
Marion Money, Kent spokeswoman for the National Landlords Association, said the majority of tenants understood the implications of a housing tenancy.
"But there is a challenging minority who don't understand their rights and responsibilities," she said.
"If Medway council can encourage them to understand that, it is going to create long-term tenancies which everybody wants."