Queen bestows Regius Professorship on University of Surrey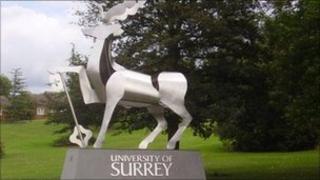 The electronic engineering department at the University of Surrey has been awarded a prestigious professorship by the Queen to mark her Diamond Jubilee.
It is one of 12 in the UK, including the music department at the Royal Holloway, in Egham, to have the title of Regius Professor bestowed upon it.
Only two have previously been created in the past century.
Professor Josef Kittler, head of electronic engineering, said the honour was a result of its achievements.
"Surrey Electronic Engineering Department has been the premier electronic engineering department in the country for more than two decades, both in terms of its outstanding research as well as the quality of graduates it has been producing," he said.
"The Regius Chair is an internationally recognised hallmark of its achievements, which we are proud to receive and keen to live up to."
The university said the announcement of the professorship would probably be linked to the opening of a new building to house the International 5G Innovation Centre for broadband internet communication, which is scheduled in 2015.