Kent huntsman Brian Fraser trial: Woman 'terrified by shooting'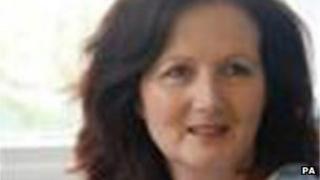 A woman was "absolutely terrified" after being shot by a gunman who was hiding in the bushes outside her home, a court has heard.
Louise Leggatt suffered leg injuries when she was shot as she tended her horses in Benenden on 15 March.
She also had shotgun pellets in her bowel and pelvis, Maidstone Crown Court has heard.
Brian Fraser, 63, has denied attempted murder but admitted possessing a firearm without a licence.
The court was told Fraser, of Criol Lane, Shadoxhurst, was a former boyfriend who Ms Leggatt had met through the Ashford Valley Hunt.
The shooting happened two months after arsonists attacked Ms Leggatt's home, forcing her to rent a property next door to where the shooting happened.
'Horrendous pain'
Ms Leggatt told the court the shooting happened after she went out to check on her horses.
She said: "My dog was in the corner of the garden, very upset, very angry and barking.
"I didn't get very far on to the patio and, as I shone the torch across the garden and shut the patio door at the same time, I was shot."
She said she could not see anyone in the garden.
She added: "First of all, I heard the sound and then I had a horrendous pain in my leg and hip, and I realised what had happened.
"I was absolutely terrified. I had never been so terrified in all my life."
Ms Leggatt told the jury the wounds had healed but she had a large scar on her stomach where she was operated on and scarring on her leg.
Some shotgun pellets still her leg cause her "shooting pain", and she has loss of feeling below her knee.
She said she met Fraser in the early 2000s and moved in with him after her divorce in 2007.
Previous 'violence'
The relationship deteriorated and he moved out in November 2011. She said he later tried to win her back with phone calls and text messages, but she resisted.
He tried to maintain contact with her, Ms Leggatt said.
"He knew where I was and what I was doing a bit too much."
She told the court he had been violent towards her on at least two previous occasions.
"On one occasion he got hold of me and threw me on the wooden bed, and the base caught me on the back," she said.
"Another occasion we were in the kitchen and he hit me and I had bruising on the face."
Her son, Ben, told the court he got on well with Fraser, who had told him the reason for the split was his brother's attitude towards him.
"It was nothing to do with my mum," he said.
The trial continues.