Margate crash victim: Hit-and-run driver 'sick'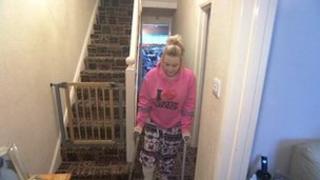 A teenager who spent Christmas in hospital after being knocked down in a hit-and-run crash has said the driver who hit her is "sick".
Georgie Francis, 15, was left with her leg broken in two places after the incident in Margate on 23 December.
Kent Police said the driver of the car that hit her failed to stop and had not reported the incident.
The teenager, who will need further surgery, said she had been left scared and suffering from flashbacks.
She has already had operations to insert a rod and pins into her leg.
'Wing mirror damage'
She said: "I have flashbacks and I get scared every time a loud car goes past, and I can't sleep at night."
She said the driver of the car that hit her was "horrible" and "sick in the head".
Georgie said she did not realise how bad her injuries were when she was hit.
"I thought I could just get back off the floor and I'd just been knocked down," she said.
"I thought I'd just get back up and just walk again, but I couldn't because my leg felt jellified.
"And then my friend was screaming 'Georgie you've broken your leg'."
Kent Police said they were trying to trace the driver of a small silver hatchback, possibly a Vauxhall Corsa.
Officers said a driver stopped to allow pedestrians to cross Canterbury Road near the Tesco Express that night, but another car pulled out of Westbrook Avenue, swerved around the vehicle that had stopped, and hit the teenager.
Police said a wing mirror from the silver car was broken off as a result of the collision.