Ex-police officer Ivan Esack admits killing wife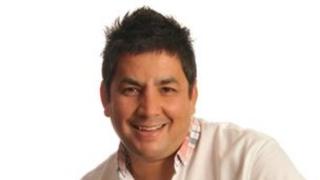 A former Kent Police officer accused of murdering his wife in a frenzied knife attack has admitted manslaughter.
Natalie Esack, 33, was stabbed up to 11 times in the neck and chest by Ivan Esack at the hair and beauty salon she ran in Ashford High Street last April.
Maidstone Crown Court has been told he could not bear her starting a new relationship after they separated.
Mr Esack, 38, from Ashford, still faces a murder charge, which he has denied on account of diminished responsibility.
Oliver Saxby, defending, explained to the jury that a psychiatrist had decided there were two disorders Mr Esack was suffering from; substance-induced mood disorder and a narcissistic-type personality disorder which made him "a severely disordered individual" at the time of the killing.
Mr Saxby said Mr Esack would not be giving evidence as part of his defence.
Judge Charles Byers told the jury they could, if they thought proper, draw an adverse inference from that.
Before Christmas, the trial heard Mr Esack had told his estranged wife he had been having an affair with another man in the months before he stabbed her to death.
He told her she should be tested for sexually transmitted infections, which left her "mortified".
Jurors were also told Mrs Esack had received threatening text messages and phone calls from the ex-policeman, and was attacked on more than one occasion.
They heard how Mr Esack bought a knife in a supermarket before attacking her, which the prosecution said had been with such ferocity that the blade bent and the tip broke off.
The case continues.