Margate Dreamland: Owners may appeal against sale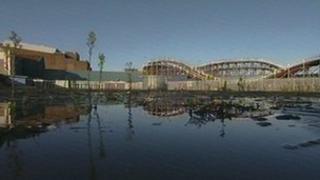 The owners of Margate's disused Dreamland theme park have not ruled out lodging an appeal to stop its compulsory purchase.
The secretary of state for communities and local government gave the Thanet District Council the go-ahead to purchase the site on Friday.
The authority wants to turn Dreamland into a £10m heritage park.
Toby Hunter, of current owners DreamlandLive, said an appeal was an option they would be considering.
He said: "We're trying to fix a meeting up with our legal team to look at that [the compulsory purchase order] and review our options and go from there."
Peppercorn rent
When asked whether they planned to appeal, Mr Hunter replied: "It's certainly one of our options.
"We'll see what our legal team says."
DreamlandLive's plan involved building 400 homes, as well as restoring the Grade II-listed Scenic Railway around a fun park and a digital media studio.
The two competing visions of the site were aired during a public inquiry in January.
On Sunday, MP for North Thanet Roger Gale welcomed the decision to approve the compulsory purchase order, saying the theme park had been a blight on Margate seafront for "far too long".
The Dreamland Trust, which will be given the site by the council for a peppercorn rent, said it hoped to re-open Dreamland in 2014.