White cliffs of Dover get writer in residence
20 August 2012

From the section

Kent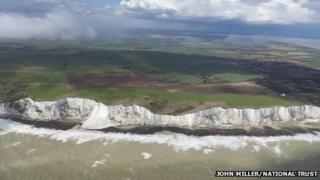 The white cliffs of Dover are to get their own writer-in-residence who has been commissioned to explore their impact on British identity.
Julian Baggini will spend a week based at South Foreland Lighthouse recording his observations in a blog.
He was born in nearby Folkestone and his mother is from Dover.
The National Trust, which commissioned Mr Baggini, is trying to buy a stretch of the cliffs and has raised £800,000 of the £1.2m it needs to do so.
Mr Baggini said: "These are a natural feature of our landscape which have been here for thousands of years, they're not things which have been erected in the last century or so."
The writer and philosopher said the cliffs were the first sight of the British mainland seen by his Italian immigrant father who came to the country in the 1960s.
'Statue of Liberty'
"For millions of Britons living across the world, the white cliffs are a clear symbol of Britain, in much the same way that the Statue of Liberty has defined America," he said.
"Even if we've never been to or seen the white cliffs of Dover, there is a collective sense that they matter.
"I want to get a real sense of what the white cliffs of Dover mean for British people, including those for whom the cliffs were the first sight of the country which would become their adopted home."
The cliffs were further embedded in the national psyche during World War II following the evacuation of troops from Dunkirk and Dame Vera Lynn's famous song, The White Cliffs of Dover.
The National Trust already owns about four miles of the chalk cliffs.
It wants to fill in the gap between the two segments it already owns, creating a five-mile (8km) contiguous reserve with guaranteed rambling rights and nature protection.
Its campaign has been backed by actress Dame Judi Dench, singer Joss Stone and yachtswoman Dame Ellen MacArthur.