Drivers flout in Canterbury Westgate Towers traffic ban
11 August 2012

From the section

Kent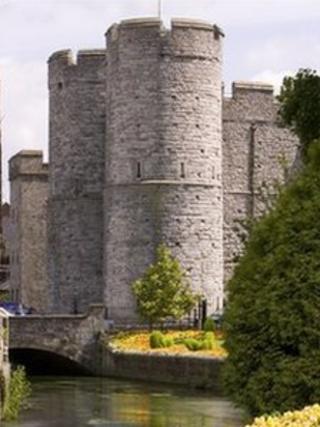 A scheme banning traffic passing through a medieval gateway in Canterbury is being flouted every three minutes, according the city council.
The 12-month trial, designed to protect Westgate Towers and improve air quality in the area, began at the end of March.
About 4,000 people signed a petition calling for the scheme to be scrapped because of congestion.
Councillor Peter Vickery-Jones said local people were showing their resistance to the traffic trial.
"We had a traffic warden stationed there last week for an hour and in that hour we had 25 people looking to go around the towers completely illegally - six of which were deterred by the sight of the traffic warden but 19 of which went through," he said.
Built in 1380, the archway is one of the largest surviving medieval gateways in the UK.
Business downturn
The traffic ban involves major changes to the road layout in the St Dunstan's area and the pedestrianisation of the Grade I listed Westgate Towers.
Some shop owners have said business has seen a 20% downturn because congestion is putting people off going to Canterbury.
Canterbury City Partnership has said the issue is of "really serious concern".
The city council is carrying out an online survey as part of a public consultation on the scheme, which runs until 15 October.
Mr Vickery-Jones, cabinet member for transport, said he understood if people objected to the traffic ban.
"But we are never going to be able to compile the correct data and statistics that we need to prove one way or another if the traffic trial is effective if they continue to transgress in such a way," he said.
"We are trying resolve a problem that has been a thorn in the side of Canterbury for many years."