Daughter saw father shoot Kent man, Miami-Dade jury told
25 July 2012

From the section

Kent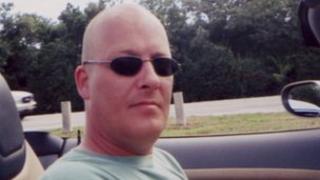 A 10-year-old girl has told a US court how she watched her father shoot and kill her mother's new husband in Miami.
Cristobal Palacio's daughter gave evidence via video link in the trial of her 46-year-old father who denies first degree murder at Miami-Dade court.
She told jurors her father smiled as he shot an unarmed man.
Paul Winter, 42, a graphic designer originally from Tunbridge Wells, Kent, died in front of his wife Jennifer Winter and her twins, seven, in 2008.
The girl and her twin brother were being dropped off for a court-appointed visit at Mr Palacio's home in the Miami suburb of Kendall in October 2008 and were in their mother's van when the incident happened in the driveway, the court heard.
Mr Winter was shot six times, including twice in the back, the jury was told.
'Fell to the ground'
Mr Palacio's daughter, who is not being named, said: "Chris started shooting. He was shooting at Paul."
She said: "I heard the gun being fired. And he fell. He fell to the ground. The gun was fired more than once. I heard a loud sound."
When prosecutor Joseph Mansfield asked her if she had felt fear, the girl replied: "Yes, a little bit."
He asked her: "Do you remember if Paul had a weapon, a knife or a gun?"
She replied: "He did not have anything."
Mr Mansfield also asked the girl if she had seen her father's face, and she replied. "He was smiling. He was smiling when he was shooting Paul."
The court heard that the child, who now lives in Delaware in the US with her brother and mother, had needed counselling after the incident.
Mr Palacio has claimed he fired in self-defence because he thought Mr Winter was reaching for a weapon.
Last week, Mr Palacio told the court that Mr Winter had tormented him for months, pulled a gun on him on two occasions, and often used profanity. Mr Palacio said the arguments usually happened during custody visits.
Mrs Winter has testified that her husband never owned a gun and also liked to avoid conflict. She went through a bitter divorce with Mr Palacio in 2007, the court has been told.
The case continues.