James Taylor: 'Life ruined' by wrongful conviction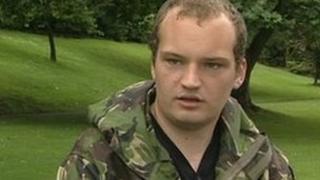 A Kent security dog handler who lost his job and home after being convicted of a crime he did not commit has said his life has been ruined.
James Taylor, 21, who remained homeless in Gravesend until recently, said he had lost "absolutely everything".
He was found guilty of using threatening words and behaviour by magistrates after an incident in 2011.
But in March, a judge cleared him and said the consequences of the conviction had been "little less than horrifying".
Mr Taylor said: "I hadn't done anything wrong. It completely ruined my life. It was awful."
He added: "It made me homeless. Because of the conviction I lost my Security Industry Authority licence, which caused me to lose my job straight away. I ran out of money, obviously.
"I had to get rid of my dog because I wasn't licensed to keep him.
"I lost my car because I couldn't afford the insurance. Everything. I lost absolutely everything."
'Miscarriage of justice'
Mr Taylor had been living on a houseboat in Islington, north London, when an altercation broke out with another man over some smashed glass, in October last year.
Highbury Corner magistrates convicted him in December, but three months later his conviction was quashed on appeal at Blackfriars Crown Court.
Judge Peter Clarke QC said: "We find the consequences to Mr Taylor little less than horrifying."
However the judge said he was not making any judgement about what happened before Highbury Corner magistrates because facts before that court could have been very different.
Adding that it would be outrageous if anything was held against Mr Taylor, he ordered a note to be placed on his records recording "concern about a miscarriage of justice".
A Metropolitan Police spokesman said: "We put the evidence to the Crown Prosecution Service (CPS) and the CPS decides whether to charge or not."
A CPS spokesman said: "The CPS takes decisions to prosecute in accordance with the Code for Crown Prosecutors."