Chapel Down Wines says year is 'uncertain' for English wine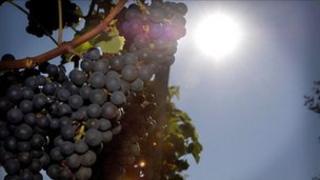 A Kent winemaker has said the next ten days are crucial in determining the quality of the English grape harvest.
This year's variable weather, which included the wettest June since records began, has led to predictions that some producers face a poor crop in October.
Frazer Thompson from Chapel Down Wines in Tenterden said: "Without wishing to tempt fate, the next week to ten days are the ones that now really matter."
About three million bottles of English wine were made last year.
Mr Thompson said: "Such variable weather really makes it too early to predict for certain how the harvest will turn out.
"The consistency of English wines is now of paramount importance and it's only high quality fruit that will allow us to make great wines year after year and satisfy demand.
"That's crucial if we're to build on the excellent reputation that the industry is starting to enjoy."
The trade body, English Wine Producers, said some vineyards in Kent had been sheltered from the wet weather and were in line for a "fantastic" crop.
Spokeswoman Julia Trustam Eve said: "It's still early days, and there won't be too many people willing to make a call on what will happen just yet."