Broadstairs woman returns home more than two years after subsidence
4 July 2012

From the section

Kent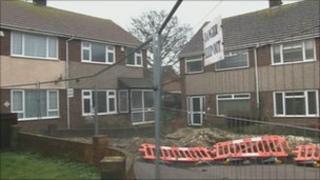 A woman who was forced to leave her home in Kent in 2009 when a hole appeared in the road causing structural damage has finally moved back in.
Six houses in Victoria Road, in Broadstairs, were left uninhabitable following the sudden subsidence.
A row over whether or not a burst water main was responsible led to a delay in repair work being undertaken.
Jill Roach, who is the first resident to return, said it was "a very exciting day" and she was "thrilled to be back".
None of the residents have been able to live in their homes for two-and-a-half years, after being forced to move out on 23 December 2009.
Houses demolished
Ms Roach had to live with her parents after large cracks in the ground and the walls of her property appeared.
"It's been very up and down because it's been such a long time. The uncertainty, that's been the worst thing."
Ms Roach said her local Conservative MP, Laura Sandys, who represents Thanet South, had been most instrumental in getting her back home.
Ms Sandys said: "For her and for everybody in Victoria Road it's been a nightmare.
"And it only really started to get going when I pulled together all the insurance companies and the councils to a meeting and said almost 'you're not leaving this room until we sort this'."
Other neighbours are also preparing to return to their homes, which were built on the site of a chalk quarry, although two properties will have to be demolished.