Brands Hatch Paralympic concerns 'not listened to'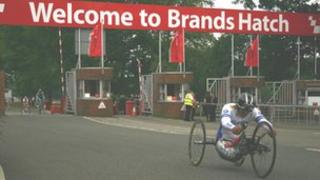 Traders near Brands Hatch in Kent claim authorities have not listened to their concerns about road closures during the Paralympic events at the circuit.
The Swanley venue is hosting 32 Paralympic road cycling races and trials between 5 and 8 September.
Parts of the A20 and surrounding roads are closing for six days from the 3 September.
Olympic organiser, Locog, said the closures were necessary to safely deliver the world-class sporting event.
'We'd like compensation'
Julie Underhay, from West Kingsdown Business and Traders Association, said: "The stretch of the A20 that they're using is actually three lanes, we'd like one of those lanes open for access at some point during the day.
"Also for the local businesses, it is going to create a huge amount of business loss for us and we'd like compensation."
Ms Underhay said that businesses located along the race routes had been told to cover up their signs because they are not official London 2012 sponsors.
David Brazier from Kent County Council said: "Locog are very keen on branding, my personal view is it's nuts.
"If local businesses wants to keep their signs up that's for them but [covering them up] is what Locog require and they're the dominant party in the partnership."
He added: "They [Locog] won't consider the possibility of allowing the A20 to be split down the middle to allow through-traffic.
Mr Brazier said Locog had told him compensation for businesses affected by the road closures was not something they were able to consider.
He emphasised that the majority of West Kingsdown would be accessible during the Paralympic events at Brands Hatch and emergency vehicles would have access through the road closures.
"There is going to be a little bit of pain for some people, we can't stop the games, I don't think anybody wants us to," said Mr Brazier.
In a statement Locog said minimal road closures and parking restrictions were necessary to hold a safe, successful event and keep the area moving.
"The closures and diversions have been communicated to residents and businesses in good time and advice given to finding alternatives should they be affected by the closures," said Locog.